Further to Andrea's post from yesterday, with an even nastier twist. Now we in the West are urged to consider saving the planet from global warming by preventing more poor, non-white babies from being born.
That's what I call progressive!
Don't believe me? Read on:
Consumers in the developed world are to be offered a radical method of offsetting their carbon emissions in an ambitious attempt to tackle climate change – by paying for contraception measures in poorer countries to curb the rapidly growing global population.

The scheme – set up by an organisation backed by Sir David Attenborough, the former diplomat Sir Crispin Tickell and green figureheads such as Jonathon Porritt and James Lovelock – argues that family planning is the most effective way to reduce the likelihood of catastrophic global warming.

Optimum Population Trust (Opt) stresses that birth control will be provided only to those who have no access to it, and only unwanted births would be avoided. Opt estimates that 80 million pregnancies each year are unwanted.
This is the picture they used to illustrate the story: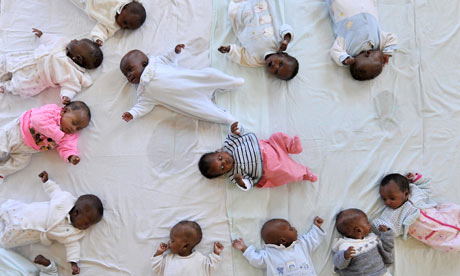 Well. Imagine how relieved environmentalists in the West are going to be when they are able to offset their own carbon emissions that way! "It's fine, honey, we can fly to Costa Rica eco-guilt-free! I bought enough credits to send three more shipments of condoms to Dakar and cover the cost of four abortions in Nairobi! Woo-hoo, party!"
I think I'm going to go idle the car for no reason.






by